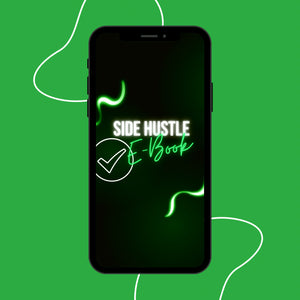 The Ultimate Side Hustle E-Book
This E-Book is your first step towards financial freedom. One side hustle changed the whole trajectory of my life. I started making T-shirts in my spare time and before long, I was making just as much with my side hustle as I was with my full time job. Afterwards I started selling E-Books and with those two together, I was able to quit my job entirely and step into full time entrepreneurship.
 I now want to help you do the same. Whether your goal is to become your own boss, travel and work from anywhere, set your own schedule or just to spend more time with your family. No matter who you are, how old you are or what skills you have -There's a side hustle out there for you. Now lets find your perfect match!
What's included?
Over 100 side hustle ideas and tips on how to get started including:
-Driving Side Hustles
-Phone Job Side Hustles
-Content Creator Side Hustles
-Online Side Hustles
-Writing & Reading Side Hustles
-Musical Side Hustles
-Education Side Hustles
-Selling Online Side Hustles